Very cool. If you are a fan of Executive Outcomes or a student of private military companies and their uses for war fighting, then this is your book. I have not read this book yet, but this is definitely on my list for Christmas. lol
I would be interested to hear what others have to say if they have read it. I am particularly intrigued with the idea of leading a modern private military force for offensive operations, and all of the unique challenges associated with that endeavor. There is much written about modern military leadership during combat operations, but very little written about modern private military leadership as it applies to combat operations.
It is also a unique study on the true potential of PMC's, and this kind of insight would give any author, film maker or video game developer some extremely valuable information as to how this type of force really works. The book will be in the Jundi Gear store if anyone wants to find it again in the future. –Matt
Edit: 07/06/2012- I just got an email from Andrew Hudson and he informed me that the book is published and being sold at amazon.com, amazon.co.uk, barnesandnoble.com, helion.co.uk, and 30degreessouth.co.za. So if anyone reads the book, definitely let us know what you think here. Maybe the authors might come out and answer some questions as well?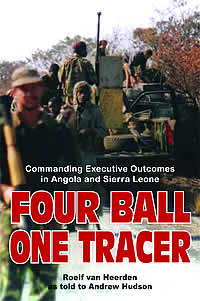 Four Ball, One Tracer: Commanding Executive Outcomes In Angola And Sierra Leone
By Roelf van Heerden as told to Andrew Hudson
Book Description
Publication Date: June 2012
Brutally honest and devoid of hyperbole, this is Roelf van Heerden's Executive Outcomes. / Unapologetic, unassuming and forthright, the combat exploits of Executive Outcomes (EO) in Angola and Sierra Leone are recounted for the first time by a battlefield commander who was physically on the ground during all their major combat operations. From fighting UNITA for the critical oil installations and diamond fields of Angola to the offensive against the RUF in Sierra Leone to capture the Kono diamond fields and the palace coup which ousted Captain Valentine Strasser, van Heerden was at the forefront. He tells of the tragedy of child soldiers, illegal diamond mining and the curse of government soldiers who turn on their own people; he tells of RUF atrocities, the harrowing attempt to rescue a downed EO pilot and the poignant efforts to recover the remains of EO soldiers killed in action. Coupled with van Heerden's gripping expose', hitherto unpublished photographs, order of battle charts and battle maps offer unprecedented access to the major actions as they took place on the ground during the heydays of EO.
Buy the book here.